Holiday villas for rent in Greve in Chianti
Do you want to stay in one of the historic towns of Chianti Classico near Florence? Choose one of our villas in Greve in Chianti. Among the villas for rent in Greve in Chianti listed below we are sure that you will find the holiday villa in Chianti ideal for you, your family and your friends.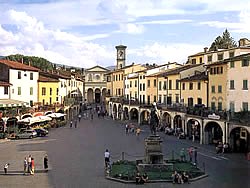 Greve in Chianti is located just
20 km from Florence
and is one of the first towns that from Florence you meet along the famous road called '
Chiantigiana
'. This road is famous for its scenic beauty and we're confident that you'll be amazed by its beauty. Man and nature in the Chianti region have created a harmony unique in the world.
Greve in Chianti offers visitors a beautiful triangular square full of craft shops and cellars, and in the middle of it stands the statue of Verrazzano. Did you know that Verrazzano was the first explorer who discovered the New York Bay, many years before Hudson? That's right! Discover therefore the native area of this important explorer, paying him homage exploring this wonderful land yourself ... will not regret it! In the Church of Santa Croce you will find prestigious works, including some by Della Robbia.