Holiday villas for rent in Castellina in Chianti
In the Chianti Classico through history, archeology, beautiful landscapes there are our villas in Castellina in Chianti. Among the villas for rent in Castellina in Chianti listed below you will surely find the ideal holiday villa in Chianti for you.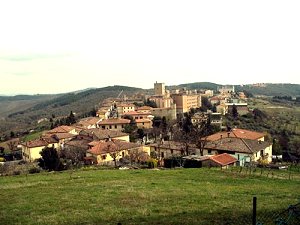 Castellina in Chianti is located
26 kilometers from Siena
and 40 from Florence and is accessible from both cities along the famous street known by the name of '
Chiantigiana
'. Hills covered with vineyards and olive groves are the classic view along this road and we are confident that you will remain speechless in front of such beauty. Along this road you will find many vantage points where you can stop and take photos: the traffic is light, being a country road, but we still suggest you to be careful if you decide to stop the car to take photos or admire the scenery.
The profile of Castellina in Chianti is distinguishable by its imposing medieval tower, once the site for Florentine soldiers to see the enemy Siena coming. Castellina in Chianti in fact was a Florentine fortress to combat the attacks of Siena. The great medieval tower now houses the Archaeological Museum of Chianti. Inside there are valuable archaeological finds, also of Etruscan origin: in fact the city was founded by the Etruscan civilization several centuries before Christ.