Villas for vacation renatals in Pieve a Nievole
We are an agency specialized in vacation rentals and for many years we have been offering to our customers expertise and assistance in booking their holiday villa in Tuscany. On this page we are pleased to offer you a selection of villas for rent in Pieve a Nievole near Pistoia. Among the holiday villas in Pieve a Nievole there could be your ideal villa.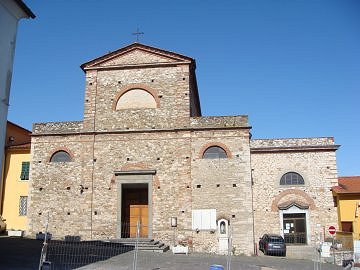 Pieve a Nievole is located approximately 28 meters above sea level. The town is part of the territory called Valdinievole and belongs to the
province of Pistoia
. The name comes from the river running through the town: the river Nievole. Pieve a Nievole is located only 2 kilometers away from Montecatini Terme and 2.5 kilometers away from Monsummano Terme. In addition, from Pieve a Nievole you can reach Lucca in 20 minutes and Pistoia in 15 minutes. Florence is located about 52 kilometers away, which is about 30 minutes by car. The beaches of Versilia are not very far and if a day you really want to take a dip in the sea remember that reaching it is very simple: just take the highway and in about fortyfive minutes you'll be on the beach!
The
historic center of Pieve a Nievole
offers monuments and churches of great artistic value as the beautiful Church of St. Peter the Apostle and Evangelist Mark. The church was probably built in the Middle Ages and the stone façade has a Gothic style dating from precisely the same period. In the nineteenth century the church was restored and we can notice a neo-Romanesque style. Note the organ, the altar and the wooden choir of the nineteenth century as well as a beautiful painting of the seventeenth century by the artist Panfilo Nuvoloni.