Holiday villas for rent in Poppi
Discovering a land such as the Casentino will leave you speechless and astonishment will be even more amazing if you decide to stay in one of our villas in Poppi. Our holiday rental agency has selected for you the best villas for rent in Poppi and on this page you can choose the one you prefer.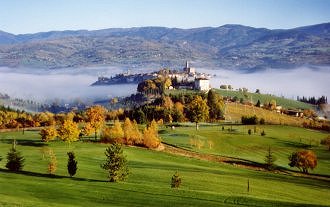 Poppi is one of the most famous towns of the Casentino in Tuscany. This beautiful town is located about
40 kilometers north of Arezzo
, in less than an hour therefore you can reach the beautiful city of Arezzo which is definitely worth to be seen quietly. Poppi stands on a hill 437 meters above sea level.
The skyline of the town of Poppi is unmistakable: the Castle of Poppi is visible across the valley and is a magnificent view at any time of the day or night. In the early morning mist envelops the valley and only the crenellated tower of the castle emerges from the fog, at night, the lighting makes it particularly impressive. The Castle of the Counts Guidi has medieval origins, dating back to the twelfth century and inside houses a chapel, a museum dedicated to the famous Battle of Campaldino 1289.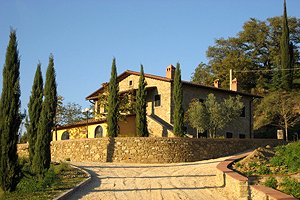 Villa Isabelle
Holiday villa with pool near Subbiano (Arezzo), in Casentino. Sleeps 12, garden, Internet connection, children`s toys. Riding stable and tennis club within a few kilometres. Wonderful view over Casentino hills.
7 days: min: 1665 € - max: 3335 €
More details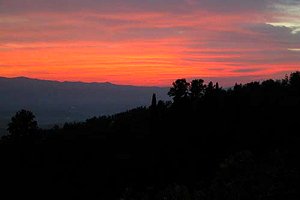 Farmhouse Castelfranco
Ancient farmhouse with swimming pool at the border between the Chianti and the Casentino, in Castelfranco di Sopra (Arezzo). 8/9 sleeping accommodations, wonderful panorama, barbecue.
7 days: min: 1070 € - max: 2010 €
More details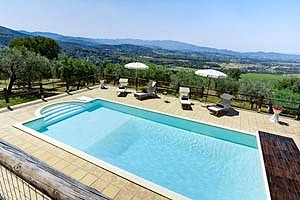 Villa Del Poggio
Villa for rental vacation near Arezzo, in Tuscany. Villa with accommodation for 6/8/10 people, big garden, panoramic view.
7 days: min: 1255 € - max: 3060 €
More details