Villas for holiday rentals in San Godenzo
Our agency specialized in vacation rentals is pleased to offer you the best villas in San Godenzo for your next holiday in Tuscany. On this page we have selected for you the best offers for villas for rent in San Godenzo.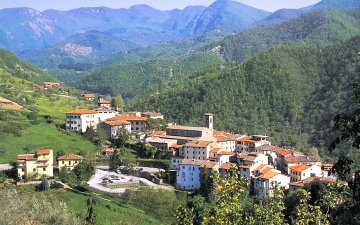 San Godenzo is located about
50 kilometers north-east of Florence
. The city is surrounded by nature and is located approximately 430 meters above sea level. San Godenzo is located near the border between the regions of Tuscany and Emilia Romagna, and in less than two hours you can reach Bologna in Emilia Romagna.
San Godenzo offers many places to visit. In particular, we suggest you go to see the Benedictine Abbey of San Gaudenzio that beautifies its historic center. The abbey dates back to 1000 and is certainly one of the most important Romanesque churches in Tuscany.
Also, do not miss a visit to the Church of St. George in Petrognano on the summit of Poggio la Croce, the Church of St. Martin in Castagno d'Andrea and the Oratory of Our Lady of the Snows in Gugena. Walking in the woods surrounding these cities you can not help but to come up with the verses of the Divine Comedy of Dante Alighieri, who was well acquainted with these places.
Follow the footsteps of Danti Alighieri and choose one of our villas for rent in San Godenzo. Contact our staff who can assist you in choosing the best holiday villa for you and your loved ones.