Villas for rent in Valdisieve
What better solution than a villa in Valdisieve for your next holidays in Tuscany? Florence is just a few kilometres away, breathtaking hilly landscapes, high mountains near the Passo della Consuma and fabulous castles... Read the following lines and find out about the best villas for rent in Valdisieve suggested by our agency specialized in holiday rentals.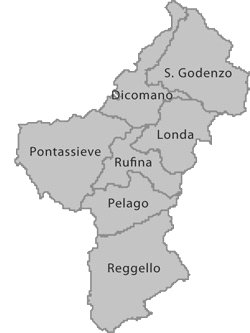 Valdisieve covers the
north-east area in the province of Florence
and offers to the visitors who decide to spend their holidays there hills and woods, medieval castles, the 'balze' territory with rocks dating back to the Pliocene, cities full of works of art, traditions and amazing Romanesque churches.
We are pleased to offer our villas in Reggello to all those who prefer the hills covered with olive groves and vineyards dotted with ancient churches and beautiful historic homes. Instead choosing one of our villas in Pontassieve you will be in one of the major cities in the Valdiseve while staying in one of our villas in San Godenzo you can explore the forest and the woods so beloved by Dante Alighieri. Finally, one of our villas in Pelago will allow you to easily reach the many castles that embellish this area.
During your stay in Valdisieve we suggest that you visit the Abbey of San Gaudenzio near the town of San Godenzo and the church of San Clemente near Pelago. Also, do not miss a visit to the medieval castles that stand on the tops of the hills. Near Reggello then you can admire the famous cliffs, rock formations of ancient origins.
Below our villas for rent in Valdisieve with photos, descriptions and prices. You can choose either alone or seek advice from our staff who will be happy to help you.