Holiday villas for rent in San Gimignano
Among the villas in San Gimignano on this page you will definitely find the holiday house for you amid the peaceful hills of Siena near a world famous medieval village. Read on and choose your villa for rent in San Gimignano among those listed below with pictures, prices and descriptions.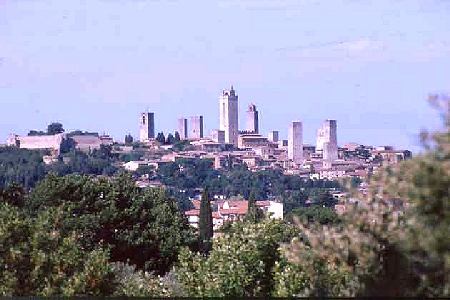 San Gimignano is located in the province of Siena in the Val d'Elsa. The town is about
51 km from Florence and 47 km from Siena
. From the Firenze-Siena proceeding south towards Siena is possible to admire the town skyline towering the hills. The medieval towers that characterize this town are unmistakable from a distance. Spending your holidays in San Gimignano is not only the best way to reach Siena and Florence, but also to visit Pisa and Volterra. Pisa in fact can be reached in about 1 hour and 20 minutes from San Gimignano.
The town of San Gimignano is kept within massive walls. Entering through the medieval gates, go along the main road that runs through the town and leads to the two central squares: Piazza Duomo and Piazza della Cisterna. The medieval towers are located throughout the town and embellish the historical center, in itself a wonderful architectural gem.