Holiday villas in San Quirico d`Orcia
Our vacation rental agency has selected the best villas in San Quirico d'Orcia for all those who love their independence and privacy during the holidays and want to stay in an enchanted place famous all over the world: the Val d'Orcia. Below, our villas for rent in San Quirico d'Orcia.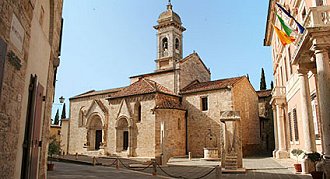 San Quirico d'Orcia is located in the province of Siena in the beautiful Val d'Orcia. The town is just over 40 kilometers from Siena and is located
between Pienza and Montalcino
. In just ten minutes you can reach Pienza, east of San Quirico d'Orcia, while going west you will reach Montalcino in less than 20 minutes.
San Quirico d'Orcia offers a beautiful old town full of churches and works of art and the famous Horti Leonini gardens. The Horti Leonini gardens are an Italian style garden built in the mid sixteenth century. The garden is open to the public and can be visited. Inside you can admire the beautiful plants and, if you're lucky, even works of contemporary art. The garden in fact often hosts art exhibitions by important local and international artists.