Holiday villa rentals in Pienza
How many times have you thought you wanted to live in an ideal town without defects? Someone way back in 1458 has designed and built it, and in 1996, UNESCO has confirmed the beauty of this city by declaring it a World Heritage Site. Choose yourself to live in the perfect city of the Renaissance: rent one of our holiday villas in Pienza. You can choose the villa in Pienza you prefer among those listed below.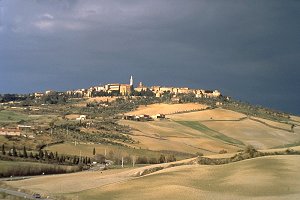 Pienza is located in the province of Siena and is among the
most famous towns of the Val d'Orcia
. Pienza is situated about 50 km south of Siena, along a scenic road that passes near the small town of Buonconvento and San Quirico d'Orcia. Pienza is located between Montalcino and Montepulciano, beautiful medieval villages to visit. Southwest to Pienza there is Chianciano Terme offering spas for lovers of thermal springs.
The historic center of Pienza was conceived by Pope Pius II in the fifteenth century following his idea of ​​the ideal Renaissance city. The architect Rossellino accomplished the project. Entering from the Porta Senese you walk a few meters and you will reach the main square of the town where you meet the Assumption Cathedral, the Bishop's Palace and the Town Hall. The Church of San Francesco is in Gothic style and dates back to the thirteenth century, when Pienza was called Corsignano.