Holiday villas for rent in Castiglione d`Orcia
If you love spas and you want to spend a relaxing holiday in one of the most beautiful places of the Tuscan countryside choose one of our villas in Castiglione d'Orcia in Val d'Orcia. Between the hills and the mountains, your villa rental in Castiglione d'Orcia will offer privacy and independence.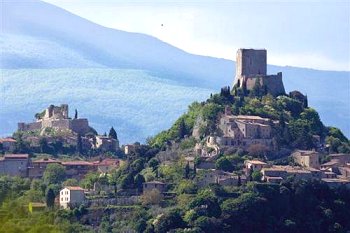 Castiglione d'Orcia is situated south of Siena and is one of the towns of the Val d'Orcia. From Castiglione d'Orcia, Siena can be reached in about an hour, while Montalcino and Pienza in less than thirty minutes by car. If you love the mountains,
Mount Amiata
is located a few kilometers away and offers the possibility to practice the sports and outdoor activities typical of the mountain. From Castiglione d'Orcia you can also easily reach the
Thermal Baths San Filippo
and the Baths of Chianciano Terme.
The historic center of Castiglione d'Orcia is structured around the beautiful central square, Piazza Il Vecchietta, with its travertine well dating back to the seventeenth century. The Town Hall is one of the core buildings of the town. Visually Aldobrandesca Fortress and the Fortress Tentennano dominate the town from the top of the hill. In the past the town of Tentennano around the fortress, Rocca d'Orcia, was separated from Castiglione d'Orcia, but now the two towns are united. For art lovers, worth visiting the Church of St. Stephen and Degna with the works by Lorenzetti.