Holiday villas for rent in Gallicano
If you want to stay near Lucca but prefer a smaller town among the hills and mountains, we suggest you choose one of our villas in Gallicano. Below, you can find the selection of villas for rent in Gallicano made ​​by the experts of our agency to ensure a great holiday in Tuscany.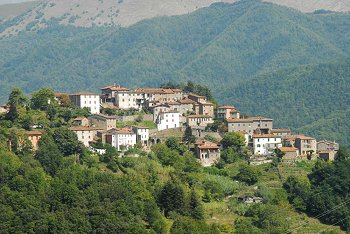 Gallicano is located just over
30 kilometers north of Lucca
. The town has about 4000 people and is located only 186 meters above sea level. The highest hills and the famous mountains in Garfagnana are, in fact, more to the north of Gallicano. The town is the first village you come to from Lucca starting and continuing north. If you love fitness centers and spas, you will be pleased to know that if you rent a villa in Gallicano you can reach Bagni di Lucca in 20 minutes.
Among the things to see in Gallicano there is certainly the Church of San Jacopo. The church dates from the fifteenth century and was built within the walls of the castle of Gallicano on another important church of the eleventh century. Entering the church you can admire the beautiful altarpiece by the Della Robbia school depicting a Madonna with child and a wooden statue of the Madonna of Loreto of the seventeenth century.