Holiday villas for rent in Chiusdino
Among the lands of San Galgano, among the Val d'Orcia, Maremma and the Crete Senesi choose one of our villas in Chiusdino for your next holiday in Tuscany. On this page our villas in Chiusdino in the province of Siena, photographs, rates and details.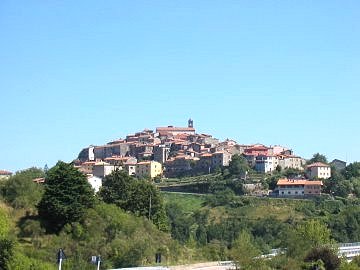 Chiusdino is located
35 km south west of Siena
and is immersed in the green Val di Merse. A villa in Chiusdino will allow you to visit not only the famous Abbey of San Galgano, but also the Val d'Orcia, the Crete Senesi and Maremma. In about an hour you can reach Asciano to the east, Montepulciano to the southeast, San Gimignano to the northwest, Massa Marittima to the west and to the north the geysers at Larderello in the province of Pisa. In addition Follonica is located just 50 km away. If you love the sea then you can reach the Tuscan coast in less than an hour while staying among the green hills of the province of Siena.
The town of Chiusdino was built on a hill and the beautiful Abbey of San Galgano, which made this town famous in the world, is located not far from the town. The church was built in 1200 and its charm remains unchanged despite being roofless and without windows. Near the church there is the Hermitage of Montesiepi where San Galgano stuck a sword in the stone to symbolize a cross and an end to violence and the sword is still visible inside the rock in the hermitage.