Villas for holiday rentals in Vicchio
If you love art it will definitely be an emotion to rent one of our villas in Vicchio and spend your next holidays in Tuscany. On this page our best offers for villa for rent in Vicchio.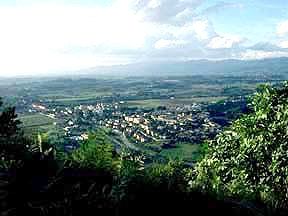 VicVicchio is located approximately
40 kilometers north-east of Florence
and is located in the territory called Mugello. From Vicchio you can quickly reach Borgo San Lorenzo and, if you love the lakes, the Lake Bilancino where you can spend pleasant days with your family and your friends.
Among the places to visit in Vicchio we suggest the 'Museo Casa di Giotto' dedicated to the artist known worldwide for his talent and his creativity. If you love to walk, do not miss a walk up to the 'Ponte alla Rignaia' (Bridge in Ragnaia) where, according to legend, Giotto and Cimabue met for the first time.
Inside the Church of St. John the Baptist you can admire works by Ghirlandaio, while important works are also in the Museum Cellini and the Museum of Sacred Art dedicated to the Beato Angelico. Finally, we suggest that you reach Barbiana where Don Lorenzo Milani educated his children and wrote many important writings which changed the Italian school in the second half of the twentieth century.
Choose one of the villas for rent in Vicchio among those listed below with photos and detailed descriptions.