Apartments for rent in the Santa Croce district in Florence
To discover the authentic Florence, choose one of our apartments in the Santa Croce district. We are an agency specialized in vacation rentals and we have carefully selected the best apartments in Florence, including those in the Santa Croce district and offer them to you on this page with photographs and descriptions.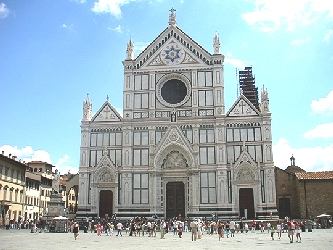 The
Santa Croce district
is located in the historical center of Florence, south-east of the Duomo. From Piazza Santa Croce in just 10 minutes on foot you can reach both the Cathedral and the Old Bridge. The Uffizi is located just 600 meters away and the Bargello Museum is located just 400 meters from Piazza Santa Croce.
The square is famous because in the summer every year there are numerous concerts and theatrical performances as well as the famous Calcio Storico (Historic Florentine Football). This historical re-enactment is not to be missed! The square becomes a big football field where four teams play following the rules of the ancient medieval game where you used your feet and your hands. Players wear ancient and colorful uniforms and it is for this reason that the Calcio Storico is also called 'Calcio in costume (Football in Costume). If you are thinking of staying in Florence in the summer, do not miss the matches of the Calcio Storico and all the festivities related to this important folkloric events.