Apartments for rent near the Duomo in Florence
Imagine waking up in the morning, getting on the road and finding yourself in front of the façade of the Duomo of Florence. What better way to see Florence than to rent an apartment in the Duomo district? Following, numerous apartments in the Duomo neighborhood you can rent for your next vacation.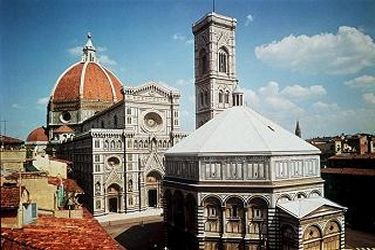 The
Florence Cathedral
is the centerpiece of the historic center and with its grandeur and beauty attracts millions of visitors each year. The Cathedral is just a 10-minute walk from Santa Maria Novella, just a few minutes from the San Lorenzo market, a 5-minute walk from Piazza della Signoria and Ponte Vecchio. The Accademia Museum and the Uffizi Museum are less than a ten minute walk away.
The Duomo of Florence is the fifth largest church in the world, and inside there is the largest frescoed wall in the world, by Giorgio Vasari and Federico Zuccari in the fourteenth century. The church was begun at the end of the thirteenth century, and between 1334 and 1337 Giotto worked there. It was consecrated in 1436 and since then is the most important church in Florence. The dome is by Brunelleschi and there is Giotto's bell tower. Great artists have worked on this wonderful work of art.