Apartments for rent near Piazzale Michelangelo in Florence
Having all of Florence at your feet? you will not believe this but it is possible! Just rent one of our beautiful apartments in Piazzale Michelangelo. Below the apartments close to Piazzale Michelangelo carefully selected by the staff of our agency of vacation rentals.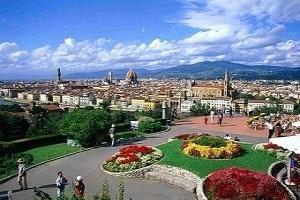 The Piazzale Michelangelo is one of the
most beautiful and romantic places in Florence
. A large panoramic terrace from which you can admire the entire city from the top. Piazzale Michelangelo is located on the hills of Florence and can be reached either on foot or by car or bus from the city center. Between the Piazzale Michelangelo and Piazza Duomo in the historical center there are about 6 kilometers by car and only 2 km if you decide to go on foot.
The Piazzale Michelangelo is now a destination for many tourists and Florentines who also love to see their city at dusk or at night illuminated by the lights of the buildings and churches. The square was built in 1865 when Florence became the capital of Italy. Dedicated to Michelangelo, in the center of the square there is a copy of Michelangelo's David that from above oversees the entire city.