Apartments for rent in Piazza Pitti in Florence
Are you a lover of museums and gardens? Do you like Florence, but prefer to stay in an area of the old town less touristy and chaotic than Piazza Duomo and Piazza della Signoria? Choose one of our apartments in Piazza Pitti and get everything you want. On this page our apartments for rent in Piazza Pitti.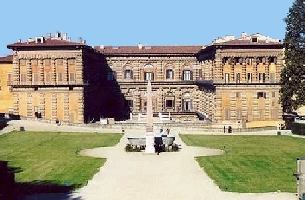 Piazza Pitti
is located in the district called Oltrarno in Florence. The square is very large and the undisputed star of the square is the Palazzo Pitti. Piazza de 'Pitti was the first square built in front of a palace in Florence. We are in the south of Florence, over the Arno River, but a few minutes walk from Piazza Pitti you can reach Ponte Vecchio and from there the Uffizi Gallery, Piazza della Signoria, the Duomo and San Lorenzo or the station of Santa Maria Novella.
The Palazzo Pitti is a huge palace built in the fifteenth century by order of the Pitti family. The project was designed by Filippo Brunelleschi. Here lived the Pitti, the Medici, Lorena and Savoia. The pomp and grandeur of the palace have made it one of the most visited monuments in Florence. Today it houses inside various museums: in addition to the monumental apartments, we recall the Palatine Gallery with works by Titian and Raphael and the Gallery of Modern Art.