Your vacation in a villa for rent in Mugello
Booking a
villa in Mugello
for your holidays is the best way to guarantee yourself a period of full blown relax. Not only will you be plunged in the green and surrounded by ancient history places, but you will stay in a prestigious villa, equipped with all the comforts and tastily furnished.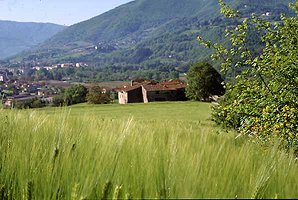 The Mugello countryside will give you
wonderful panoramic views
with its thick woods and its wide valleys scattered with farmhouses: you'll be able to admire all this from the garden of your villa maybe comfortably sitting reading a good book or during a lunch or a dinner outside.
Actually, one of the advantages of renting a villa is having
a big kitchen
all for you where you can cook your dinner in complete tranquillity with your family or friends and then serve and enjoy it in your garden.
Are you looking for tranquillity and relax, but would you also like to
visit Florence
? Nothing easier: you can drive from your Mugello villa to the city in little time by car. After visiting museums, churches and monuments the whole day, you will love to go back home and enjoy the fresh countryside air.
A way to escape the summer heat? Diving into the
pool
, right into the one of your villa. If you are on holidays with your kids this will be their dream come true and you yourself won't but enjoy the pleasure of a pool on your own.
Would you like to have an idea of how all this could be? Take a glance here.