Your vacation in a country house for rent in the Florentine countryside
Are you fond of nature and do you want to run away from the frantic city life at least for your holidays? Rent a
country house in the Florentine contryside
and carve out a niche for yourself and discover again your own rhythm plunged in the peace of the gentle Tuscan hills.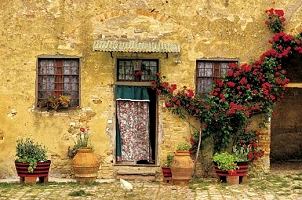 A vacation in one of the country houses scattered in the countryside around Florence will be a the perfect solution for the whole family. Your kids will be able to run and play free in the fields or in the big garden in front of your house. If have your animals with you, they will enjoy their holidays too.
In the morning you will wake up with bird songs and at night you will fall asleep in an absolute silence, maybe after having dinner in the garden or in the
big kitchen of the one-time farm houses
. The very fact of having a kitchen all for you, will give you the chance to try to
prepare a typical meal
from the Tuscan cuisine. Ask your family to co-operate either helping you or tasting from time to time!
Whenever you feel like going to the city to visit a museum, or some churches or just for a walk in the centre for shopping,
Florence will be at a stone's throw away
and driving through the narrow countryside streets that lead you to the city will be a true pleasure among olive groves, vineyards and tall cypresses.
For unforgettable vacation in the Florentine countryside take a look at our list of accomodations below