Houses in the countryside of Lucca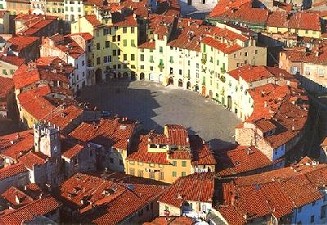 Lucca
Lucca
city walls are the most ancient and best preserved in Europe. They were built between the 16th and 17th centuries and have never been used as defensive ramparts. In fact Lucca was for a long time a peaceful and independent town. In 1817 the Duchy of Lucca was given to the House of Bourbon-Parma; in 1847 it was ceded to the Grand Duchy of Tuscany and in 1860 it became part of the Kingdom of Italy.
Are you planning to spend pleasant holidays in Lucca visiting the wonderful Garfagnana and Lunigiana regions or strolling along the sandy beaches of Versilia?
Our agency presents a wide choice of villas, apartments and holiday houses for rent in Tuscany (villas with swimming pool, apartments in villa, luxury Medieval castles in dominating position atop the Tuscan hills, old farmhouses that have been finely renovated and transformed into villas with all comforts).
Look in this page and in our website for the ideal accommodation for your next holidays in Lucca. You will certainly find the
country house in Lucca
that meets your needs.