Holidays in Italy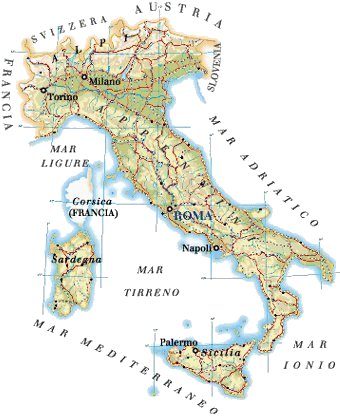 Tourists from all over the world love and dream about it. Italy reveals itself with beautiful beaches, high mountains, cities full of art, archeological sites, spas, lakes, breathtaking views. Holidays in Italy mean magic moments among places rich in art and history, unique landscapes and excellent food and wines.
Things to see and do in Italy are so many that you need to choose and maybe plan already to go back to Italy a second, third of fourth time. Milan, Venice, Florence, Pisa, Siena, Perugia, Assisi, Rome, Naples, Lecce, Palermo are just some of the cities worth to be visited.
If you love mountains, Alps will amaze you with snow-capped peaks whereas if you love the sea, Italy with its 7500 km of coastline is the ideal place for you: Sicily, Sardinia, Elba, Capri, Ischia, Aeolian Islands, Tremiti, Egadi, the Amalfi Coast, the Cinque Terre, the long sandy beaches of the Adriatic Sea and the small coves of the Tyrrhenian Sea...
Not only sea and mountains: Lake Maggiore, Lake Garda, Lake Como, Lake Trasimeno are some of the main lakes in Italy today important tourist destinations and the spa centers in Tuscany, Umbria and Trentino Alto Adige welcome visitors who love to relax. Don't forget that Italy offers famous natural landscapes like Chianti, Val d'Orcia, Dolomites, Cilento, Gran Sasso, Vesuvius, Salento, Pollino, Maddalena and important archeological sites like Pompeii, Herculaneum, Etruscan necropolis in Tuscany and Lazio, the Roman Forum, the Agrigento Temples, Taormina.
Following the itineraries of faith can be another way to discover Italy: from the Holy Shroud kept in Turin to the medieval towns along the Via Francigena, from Assisi to the Shrines dedicated to Saint Anthony of Padua, to Padre Pio or in Loreto, from catacombs in Rome to Saint Peter's Basilica. For gourmets and shopping lovers, the wine routes and the made in Italy are key words to admire other important Italian areas.
On this site you will find useful tips and information to discover Italy and you will have the possibility to contact directly agencies and service providers located all over Italy that with experience and professionalism will help you make your holidays in Italy pleasant and unforgettable!