Apartments for vacation rentals close to " Ponte Vecchio "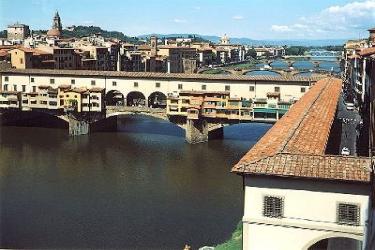 If you are planning to spend your vacations in Florence, visit the website of our agency specialized in renting holiday apartments in Florence: you will find a wide choice of luxury apartments and cheap accommodations, among which you will certainly find the accommodation that meets your needs.
The
" Ponte Vecchio "
was built in 1345. It is Florence most ancient bridge and the only bridge the German did not destroy when they withdrew from Florence in August 1944. Today, jeweller`s and silverware sellers have substituted the butcher`s shops on the bridge. The Vasari Corridor, the elevated path that connects " Palazzo Vecchio " to " Palazzo Pitti " passing over " Ponte Vecchio ", houses an important picture collection.
If you are looking for a comfortable and convenient accommodation for your vacations in Florence , visit our website and choose one of our apartments on the " Ponte Vecchio ".