Florence Vacation

Historical Center of Florence - Forte Belvedere

| | |
| --- | --- |
| Tourist Information for Vacations in Florence | |
Florence - The Oltrarno Quarter
Forte Belvedere
- Costa di San Giorgio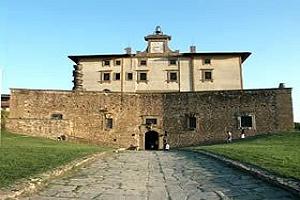 Forte Belvedere
In the XVI century Ferdinando I commissioned the building of this fort to Bernardo Buontalenti.
Forte Belvedere was mainly built for control purposes over the Florentine population in case of internal riots than as a defensive fortress against external attacks. From Forte Belvedere, the Medici family enjoyed a complete view of the city.
Forte Belvedere often hosts painting and art exhibitions. During the summer Forte Belvedere becomes an outdoor cinema.
Galileo Galilei used Forte Belvedere for his astronomical observations and after he was senteced to life imprisonnement in 1633, he lived in his villa in Arcetri, not far from the fort.