Apartments for rent close to Piazzale Michelangelo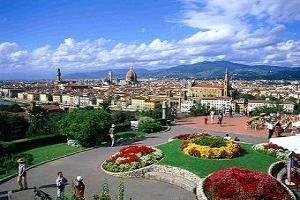 Situated on the hill on the left bank of the Arno river, Piazzale Michelangelo offers a magnificent view of the whole Florence. The square was designed by the Florentine architect Giuseppe Poggi and built in 1869. The wonderful Romanesque church of San Miniato al Monte dresses on the same hill. Flights of steps connect Piazzale Michelangelo to Piazza Poggi, where Porta San Niccolò (Saint Nicholas Gate) is to be found, and to the embankments.
Our agency specialised in renting holidays apartments and villas in Florence and in the surrounding countryside has selected a series of apartments close to Piazzale Michelangelo (luxury apartments with panoramic terrace and budget apartments).
Visit our website: you will certainly find the ideal accommodation for your holidays in Florence.
Rent one of our
apartments close to Piazzale Michelangelo
for your stay in Florence.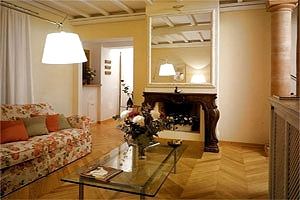 Villa Bastioni
Apartment in villa for rent near Piazzale Michelangelo in Florence. Apartment with accommodation for 6 people, air conditioning, private garden, Sat TV, dishwasher, wash machine, clothes dryer, Internet connection.
7 days: min: 1600 € - max: 1870 €
More details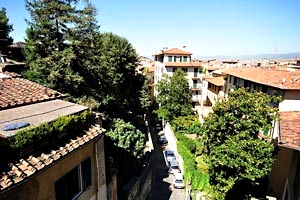 Apartment Giglio
Elegant apartment sleeping 6 in San Niccolò, in the Oltrarno district (Florence historic centre). Internet connection, air conditioning. Splendid view of the basilica of Santa Croce and some of the most famous Florentine monuments.
7 days: min: 1315 € - max: 1555 €
More details