Apartments for rent close to Piazza Pitti
Florence - Boboli
Are you planning to spend your holidays in Florence?
Visit our website: you will find a wide selection of apartments in Florence (luxury apartments, cheap apartments and apartments close to the most important Florentine monuments) among which you will certainly find the accommodation that fits your needs.
Situated in strategic position on the left bank of the Arno river, Piazza Pitti is an excellent starting point for visiting the Oltrarno and Santo Spirito districts, but also for itineraries on the other side of the river, at the discovery of the numerous treasures of Florence historical centre: the Uffizi gallery, Piazza della Signoria and Piazza del Duomo, only to mention some of the most famous. The Forte Belvedere, offering one of the most beautiful views of the whole city, can be easily reached from the Boboli gardens.
For your next holidays in Florence, rent one of the
apartments close to Piazza Pitti
we have selected for you in this page and in our website.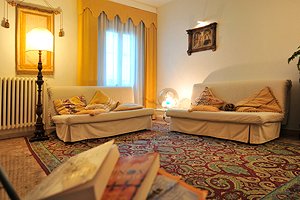 Apartment Boboli
Elegant apartment in Florence historical centre situated in a 17th-century building in the Oltrarno district, just a few steps from Piazza Santo Spirito and Ponte Vecchio. Air conditioning, Internet connection, parking. From 2 to 7 sleeping accommodations.
7 days: min: 690 € - max: 1280 €
More details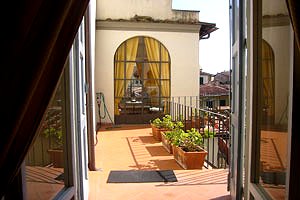 Apartment San Niccolò
Elegant apartment in the heart of Florence, near Palazzo Pitti, the Uffizi Gallery, Ponte Vecchio and Piazzale Michelangelo. Sleeps 4+2 Internet Connection, Air conditioning.
7 days: min: 1150 € - max: 1150 €
More details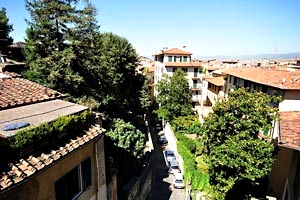 Apartment Giglio
Elegant apartment sleeping 6 in San Niccolò, in the Oltrarno district (Florence historic centre). Internet connection, air conditioning. Splendid view of the basilica of Santa Croce and some of the most famous Florentine monuments.
7 days: min: 1315 € - max: 1555 €
More details