In our website you will find a selection of villas, apartments and houses for your holidays in Florence. You will thus have the opportunity of tasting the traditional Tuscan dishes ...
Florence Holidays Accommodation
Se ti vuoi iscrivere clicca
QUI
Selection of Florentine restaurants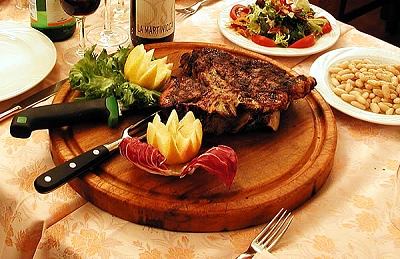 There are
hundreds of restaurants in Florence
, from small restaurants where you can eat typical Tuscan food for less than 20,00 euro, to exclusive places where you can experience the best of Italian and International cuisine but where the bill can easily exceed 200,00 euro (per person!) by a considerable amount. Generally, the average quality is good, but there are also tourist traps which must be avoided carefully. As a rule, if you like to taste the traditional local food, it is better to look for inexpensive or moderate priced places. More expensive restaurants (with a few exceptions) tend to go beyond what Florentines are used to eat at home, and are aiming at unusual flavors or more creative dishes. Remember that the secret of Florentine cooking is simplicity and the high quality of the ingredients (olive oil first of all).
It is impossible to list all restaurants in Florence with a first-hand knowledge of them. In this page "Florenceholidays.com" tried to select for you some of the restaurants we prefer in town for the quality of food and wines but also for their price, location and atmosphere.
Choose a
Restaurant in Florence
---