If you want to learn to cook the most renowned Tuscan dishes, surf our website and choose one of the apartments we have selected for your holidays in Florence ...
Florence Accommodation
se ti vuoi iscrivere clicca
qui
A few typical Florentine dishes and Florence Cooking Schools
You can have a good meal virtually everywhere in the Tuscan region.
Florence
in fact has many excellent restaurants, from high class to family-owned, where you can enjoy the typical healthy and tasty Florentine cuisine . There isn't in fact, a big difference between a "osteria", a "trattoria", or a "ristorante" in terms of price, environment and cuisine. At lunchtime, you can sit and rest in a snack bar or drop by a rotisserie where you can have a hot meal as opposed to the usual sandwiches sold in all the bars scattered around the city. As for the wine, by now the old wine-shops are slowly disappearing but if you happen to fall upon one by chance do not hesitate to stop and taste the typical snack food accompanied by a nice glass of wine.
Here a few typical Florentine dishes…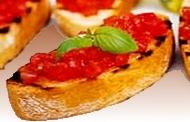 Bruschetta
"Bruschette": are oven toasted slices of bread topped with a variety of different sauces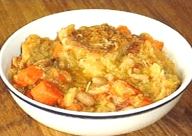 Ribollita
"Ribollita": is an oven-cooked bean soup with black cabbage, a variety of vegetables, oil and spices;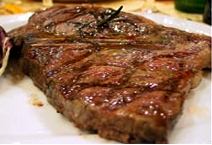 Bistecca
"Bistecca alla fiorentina": is a typical Florentine second dish. It is cooked on the grill and can be given more aroma with herbs;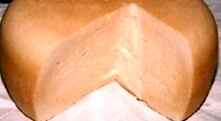 Pecorino
"Pecorino": is a typical Tuscan cheese made with sheep-milk;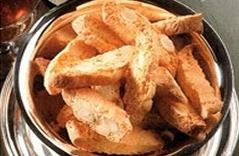 Cantucci
"Cantucci": are almond biscuits which are perfect to be dipped and eaten with "vin santo" , a sweet, red Tuscan wine
In Florence there are many
cooking schools
, where the courses concentrate on the preparation of some of the most authentic and tastiest florentine dishes . In
Cooking Schools in Florence
, courses are accompanied by tasting sessions of some of the best wines and exquisite extra virgin olive oils of these regions . You will also have the possibility to participate in visits to the typical Florentine markets and to farms to learn about the production of olive oil. In the
Florence Cooking Schools
you will also have the opportunity to make the most of your free time, enjoying evenings in Florence, and visiting the fascinating Medici Villas which are scattered throughout the area close to the schools .
Please choose the Cooking School for your stay in Florence!
List Internet Web.Sites of
Cooking Schools
---