Florence`s Country

Mountain of Florence

| | |
| --- | --- |
| Tourist Information for Vacations in Florence | |
Tourist information about the region of the Florence`s Mountain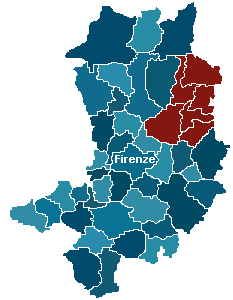 Mountain of Florence
Geography of the mountain of Florence
- The territory of the mountain community of the Montagna Fiorentina takes in the municipalities of Dicomano, Londa, Pelago, Pontassieve, Reggello, Rufina and San Godenzo. It extends along the valleys of the Sieve and Comano rivers, the latter being a tributary of the former, which proceed in a diagonal direction from north to south, linking up southwards with the Pratomagno massif, overlooking the upper valley of the Arno. The main state roads of the area are the SS 67 Tosco Romagnola, known as the Muraglione, the SS 70 Consuma road and the Valdarno road, the SS 69.
Territory of the mountain of Florence
- The northern and southern extremities of the territory are of a mountainous character, with peaks exceeding a thousand metres, dense forests of chestnuts, beeches, hornbeams and conifers, and clear mountain streams which at times form dramatic waterfalls.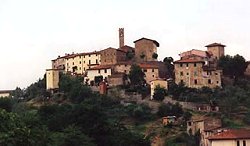 Pelago
The remainder of the territory is hilly, with gentle slopes mostly cultivated with vineyards and olive groves, which produce oils and wines of merited fame. The presence of extremely important protected areas, such as the Parco Nazionale delle Foreste Casentinesi, Monte Falterona e Campigna in the municipalities of San Godenzo and Londa, the Riserva Biogenetica Naturale della Foresta di Vallombrosa in the municipality of Reggello, the Area Naturale Protetta di Santa Brigida, Poggio Ripaghera e Valle dell`lnferno in the municipality of Pontassieve, as well as idiosyncratic and fascinating formations such as the baize or cliffs of Reggello, make the Montagna Fiorentina a site of enormous naturalistic and environmental interest. It is an ideal territory to traverse on foot, thanks to the richness and beauty of the vegetation and the physical features ot the terrain, with a dense network of hiking paths for excursions. .... from Montagna fiorentina ( Apt - Florence )