Florence`s Country

Empolese Valdelsa Holidays

| | |
| --- | --- |
| Tourist Information for Vacations in Florence | |
Tourist information about Empolese Valdelsa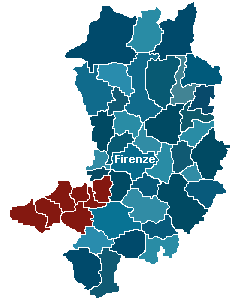 Valdelsa
Empolese/Valdelsa - Geography
This is a central area of Tuscany located to the south-west of Florence, with which it enjoys good connections both by rail (Florence-Pisa or Florence-Siena lines) and by road via two fast highways (the Fiorence-Pisa-Livorno and the Florence-Siena). The Empoli Valdeisa area is currently made up of a district comprising eleven municipajlities, six of them in the zone of Empoli ( Capraia e Limite, Cerreto Guidi, Empoii, Fucecchio, Montelupo fiorentino and Vinci) and five in the Valdelsa (Castelfiorentino. Certaldo. Gambassi Terme, Montaione and Montespertoli).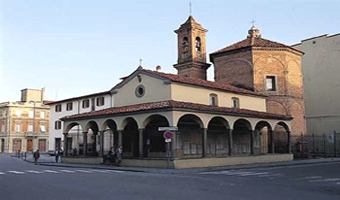 Empoli
Empolese/Valdelsa - Territory
- The territory is characterised by two rivers, the Arno to the north which runs from east to west in broad bends, and the Elsa to the south, one of its principal tributaries, winding amidst gentle hills and a humanised landscape of heartbreaking beauty. The gentle harmony of the landscape is in fact the result of the patient work of man; given the difficult nature of the terrain, it was necessary to extend the cultivations as far as the hillsides, thus giving the area its characteristic appearance.
Empolese/Valdelsa - Characteristic Features
- This was historically a land of passage, and it was effectively here, entering from the Fucecchto marsh, that the great flow of pilgrims from Northern Europe on their way to the Holy City made their way along the major road known as the Via Francigena or Romea in the direction of Siena. A realm of sharecropping, the area was a rural district of Florence, but nevertheless developed the three important urban centres of Empoli, Castelfiorentino and Certaldo. After the end of the Second World War, agriculture ceased to be the principal activity, making way for the development of industry through small and medium-sized enterprises, the most famous of which are the , glassworks of Empoli and the ceramics of Montelupo . Many important figures within the Italian cultural scene were born here, including Boccaccio, Leonardo Da Vinci, Ferruccio Busoni and Pontormo. The traces left by these artists can still be seen in the artistic heritage of mansions churches, abbeys, hamlets and the many castles which were later transformed into villas or farmhouses . Empolese-Valdelsa. like the entire Province, possesses an extremely valuable cultural and artistic heritage, housed largely in the local museums which, although often small in size are nevertheless very important in terms of the value of the works on display and above aii of the cultural identity of the territory. They are authentic gems gathered within the diffused museum system promoted by the Florentine Provincial Authority and metaphorically entitled "the string of pearls". .. from Empolese Valdelsa ( Apt - Florence )